Day 1 :
Keynote Forum
Institute of Regenerative and Molecular Orthopedics, USA
Time : 09:00-09:35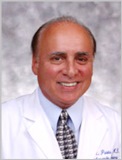 Biography:
Purita is director of Institute of Regenerative and Molecular Orthopedics (www.stemcellorthopedic.com) in Boca Raton, Florida. The Institute specializes in the use of Stem Cells and Platelet Rich Plasma injections. Dr. Purita is a pioneer in the use of Stem Cells and Platelet Rich Plasma. The Institute has treated some of the most prominent professional athletes from all major sports in both the U.S.A. and abroad. He received a B.S. and MD degree from Georgetown Univ. Dr. Purita is board certified in Orthopedics by ABOS. He is a Fellow American College of Surgeons, Fellow American Academy Orthopedic Surgeons, and a Fellow American Academy of Pain Management. He is also certified in Age Management Medicine. He has lectured and taught extensively throughout the world on the use of Stem Cells and Platelet Rich Plasma. He has been instrumental in helping other countries in the world establish guidelines for the use of Stem Cells in their countries. He has been invited to lecture on these techniques throughout the world as a visiting professor.
Abstract:
The presentation concerns PRP and Stem Cell (both bone marrow and adipose) injections for musculoskeletal conditions in an office setting. Indications are given as to which type of cell and technique to use to accomplish repair. Stem cells, both bone marrow derived (BMAC) and adipose, are used for the more difficult problems. PRP injections are utilized for the less severe problems. Indications are given when to use Stem Cells verses PRP and when to use both. The newest concepts in stem cell science are presented. These concepts include the clinical use of MUSE cells, exosomes, and Blastomere like stem cells. Basic science of both PRP and stem cells are discussed. This presentation defines what constitutes an effective PRP preparation. Myths concerning stem cells are dispelled. One myth is that mesenchymal stem cells are the most important stem cell. This was the initial interpretation of Dr. Arnold Caplan the father of mesenchymal stem cell science. Dr. Caplan now feels that MSCs have an immunomodulation capacity which may have a more profound and immediate effect on joint chemistry and biology. We now learn in the talk that the hematopoietic stem cells are the drivers of tissue regeneration. Also discussed are adjuncts used which enhance the results. These therapies include supplements, LED therapy, lasers, electrical stimulation, and cytokine therapy. The scientific rationale is presented for each of these entities as to how they have a direct on stem cells.
Keynote Forum
Joint Replacement Center, USA
Time : 09:35-10:10

Biography:
Garland received his medical degree from Creighton University (1969) and orthopedic surgery residency at Tulane University (1976). He serves on the editorial board of Orthopedics Today, and has been on the clinical faculty at the University of Southern California for over 35 years. Dr. Garland has published more than 100 peer-reviewed scientific articles and chapters. He's an internationally recognized expert in bone metabolism and his fracture surveys of locations, treatments, and outcomes within orthopedics are considered benchmarks in the field today. Since 2011, Dr. Garland has been the Medical Director for the Joint Replacement Center at Long Beach Memorial.
Abstract:
Background: Joint replacements (JRs) constitute the greatest single cost to Medicare. The majority of JRs in the U.S. are performed by low volume surgeons with a wide variability in clinical and financial outcomes. Joint Replacement Centers of Excellence (JRC) are proliferating, their mission: to provide best/predictable clinical outcomes while reducing cost through efficient/standardized care. It is generally accepted that high volume institutions and surgeons have superior outcomes; however, less is known about the outcomes of participants in JRC. We quantified the effects of surgeon case volume and/or compliance within a JRC program on key hip/knee replacement outcomes with significant financial impact. rnrnMaterials and Methods: During the 2012 calendar year, data of key outcomes for cases performed by two orthopedic surgeon groups performing total hip/or knee replacements at one large community hospital were analyzed: Group I (JRC) includes surgeons who joined the JRC program and Group II (non-JRC) those who did not. Group I was divided into Group IA (JRC >5O) and Group IB (JRC <50) based on surgeons' case volume being more or less than 50 annually. Group I was also divided into Group IC (JRC-Active), comprised of surgeons who regularly attended JRC meetings (>90% attendance) and Group ID (JRC-Passive; <10% attendance). No surgeons in Group II performed more than 50 annual cases. To compare the groups, we chose key outcome variables which have major clinical and financial impacts: blood transfusion rate, discharge to rehabilitation facility versus home, hospital bed days, complications, 30-day readmission, and mortality. rnrnResults: There was a significant decrease in blood transfusion, discharge to rehabilitation facility, and hospital bed days when comparing Group I (N=499) versus Group II (N=96) (p<.001; p<.001; p<.001). Group lA (N=341) versus Group IB (N=158) (p=.001; p<.001; p=.005), Group IC (N=202) versus Group ID (N=297) (p=.007; p=.003; p<.001), and Group IB (N=341) versus Group II (p<.001; p=.004; p<.001). Rates of complications, 30-day readmission, and mortality did not significantly differ among all groups. rnrn Conclusion: Participation in JRC was the major determinant for reduction in blood transfusion, discharge to rehabilitation facility versus home, and hospital bed days. Active/high volume JRC surgeons had the best outcomes. JRC/low volume JRC surgeons far outperformed non-JRC/low volume surgeons. This study is particularly revealing in that low volume surgeons (who perform the majority of joint replacements in the U.S.) can significantly improve certain clinical outcomes and cost savings to the hospital by participating in a well-functioning JRC programrn
Break:
Coffee Break - 10:10-10:30 @ Foyer